Jack Russell Terrier Agility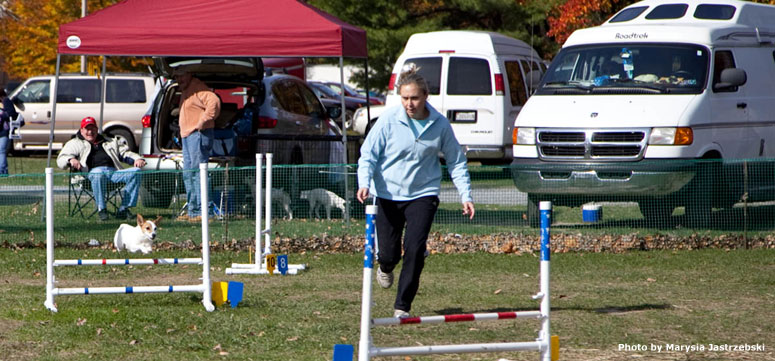 Jump. Run. Fast...
Agility is an event in which dogs traverse a maze of obstacles and compete for speed and accuracy.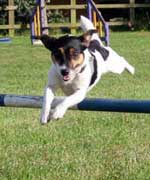 Agility is a trial event in which dogs traverse a maze of obstacles and compete for speed and accuracy. Terriers jump through tires, zip through tunnels, scale a 5'7" A-Frame, traverse a narrow "dog walk", negotiate a see-saw, zigzag through closely spaced, upright poles and soar over a variety of challenging hurdles. The sport has an overwhelming spectator appeal, largely because of the fast pace, the challenging and visually appealing obstacles and the contagious enthusiasm displayed by the dogs.
On-lead agility is unique to the Jack Russell world. It is intended and offered as an introduction to this sport. It is offered in recognition of the fact that many JR owners do not have the opportunity to work on agility equipment, other than at a terrier trial.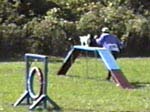 On-lead is offered at two levels, novice and advanced. Novice is truly for the first time JR competitor, canine or human. It is limited to dogs which have never received a score of 190 or better in an agility competition (JRTCA or otherwise).
Control is a necessity in agility. A leash is allowed at this level only to prevent terriers from running off. It is not intended to be used by an exhibitor to force a dog to complete the obstacles. Hence, penalties are assessed in scoring agility for tight leads and leash pulls. Teach your dog to sit, down, come, stay and wait at home to that you won't need to tug him into place.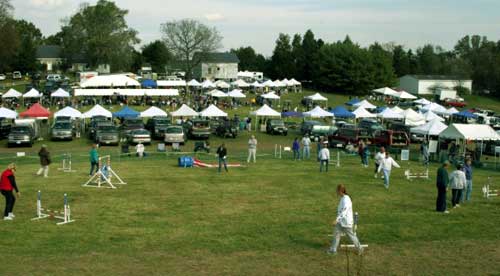 Agility Rules
All terriers must be at least one year of age and older to compete in JRTCA Agility or practice on any equipment.
Practice Runs, if offered, are payable at the gate.
Flat buckle collars with no dangling objects, six foot leads only, in On Lead classes. No collars in Off Lead. Flexi-leads, harnesses, scarves and similar adornments are not permitted.
Exhibitors are not permitted to pull or give leash corrections in On Lead classes. Loose leads only! Each leash correction = 5 points. Maximum of three incidents. Fourth incident will result in disqualification.
Note: No food, toys or training devices of any kind may be used within 10 feet of the Agility ring. The handler may not carry anything that may aid the dog in its performance.
No cross entering between Novice and Advanced On Lead classes, or Starters and Agility I. Lower Certificate levels may compete in the higher certificate classes, but will not be awarded a Certificate in the higher level until the lower level has been achieved first.
Course Time Deductions: one (1) fault for every second over course time, judge 1/100th of a second.
Off Course or Back Jumping: five (5) faults per instance. The dog must be back on course before being assessed another five (5) fault penalty.
Any scores that are NON-QUALIFYING may be used for ribbon placement, and Champion/Reserve.
HURDLES: Banking or pushing off a rail = 5 faults. Knocking off a rail, walking across Long Jump or Log Jump = 15 faults.
Tire Jump: The tire must be jumped clean. Running under the tire or between the tire and standard is a refusal = 5 faults. Banking the tire = 5 faults. Touching the tire enough to make the supports shake = 15 faults.
Note: The judge is to inspect the tire jump for safety before use. If not deemed safe, a regular jump should be substituted.
Dog Walk or A-Frame: Terrier must place at least one paw in the up and down contacts. Missed zone or leaving the obstacle prior to completion = 15 faults.
See-Saw: Terrier must place at least one paw on the up and down contacts. Leaving the obstacle prior to the down side touching the ground is considered a Fly-Off = 15 faults.
Open and Closed Tunnels: Terrier must enter tunnels in direction indicated by the judge. Terrier entering wrong direction or entering partially with just the front paws and then backing out is a refusal = 5 faults. Once terrier has fully entered where he can no longer be seen, he must complete. Failure to complete = 15 faults.
Weave Poles: Terrier must enter with the first pole being at his left shoulder. No refusal is given for missed or out of sequence poles, handler must fix mistake at point of error or start from the beginning.
Youth Division
Child's score will be determined by the following guidelines:
Does the terrier respond to the handler?
Does the child show enthusiasm?
Does the child know his/her number?
Does the child know the course?
Does the child negotiate the obstacles safely?
Does the child accept help or suggestions?
Classes
Novice On-Lead
Advanced On-Lead
Starters (off-lead)
Agility I Certificate (off-lead)
Agility II Certificate (off-lead)
Agility III Certificate (off-lead)
Youth Agility (on-lead)
Youth Agility (off-lead)
Games Classes (optional) - jumpers, gamblers, pairs relay, boxed pairs, beat the clock, pairs pursuit
Agility Training and Safety
Training and safety tips:
Use a flat buckle collar (or no collar at all) when training agility. Do not use a "choke" or "slip" collar.
Do not force your terrier to complete an obstacle
Don't push a young dog; remember, only dogs over one year of age may complete for both safety and health reasons
Keep training sessions short
Combine training with play. Play is a great reward.
Always end your sessions on a successful note
Choose a command for each obstacle and consistently use it in your training